Count On Me V.B.F. RMHA#910193 KMSHA#8708117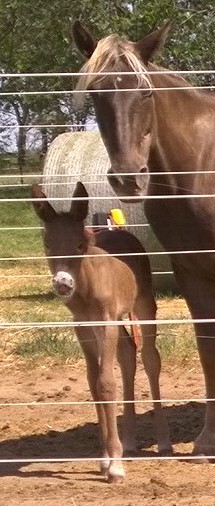 Count On Me V.B.F. aka "Countess" aka "My Lady" is a special mare. She is an OWN She is an OWN DAUGHTER OF DOCK
out of a DIRECT DAUGHTER of YANKEE(RAGTIME). DOCK is LEGENDARY FOR HIS OFFSPRING, having sired more than 15 GRAND CHAMPIONS, and his son's sons are "known for their royalty." His list of legendary offspring includes, but is not limited to.... (at the old age of 30 he still stands at stud at Classic Farms)
CHOCO DOCK MAGNUM JOE BANJO ROCKIN' DOBBIN DOCK HOLIDAY DOCK'S APACHE GOLD CHOCOLATE VENTURE LET'S TANGO & STAR DUST MOUNTAIN....
I bought Count On Me from David Shewmaker of HorseShew Acres, who owned her less that a year, and couldn't tell me much about her history. Then upon contacting the RMHA I was informed that there were SIX transfers on her history. "Oh boy..." I was thinking..."What am I getting myself into here..." So I did some digging... Turns out that before David, in the last ten years she has had only two other owners; Tom Arnold of KY before David, then Rockin' Double J Farms before Tom. When I contacted Tom to inquire about "Countess," as he called her, he went on to tell me that she was the best mare he had ever owned, and wished he could have kept her. "I'd buy her back in a heartbeat if I could afford to..." He went on to say that her foals have trusting and quiet temperaments, and that her 2011 filly, Peppers Lady Kate, was purchased as a weanling by none other that Rea Swan (founder of the RMHA).
After talking to Tom I called Rockin' Double J farm, and was told that Count On Me was a wonderful and productive mare for them, who produced many well gaited beautiful foals, and was always healthy, needing nothing more that routine vet maintenance.

---
Since bringing this mare home, she has stolen our hearts. She is a matriarch, no doubt about it, and become the wise and steady leader of our herd. She gave birth to a beautiful chocolate colt, HMH Steel Wheels April 23, 2013 that looks just like her, who was purchased by the Casteels of MO as a stallion prospect. He is a sweet heart, who will follow you around just for attention! This year she has produced for us a beautiful silver dun molly mule, Count On Mimosa, born May 6, 2014, who is the sweetest baby on the place, just like her brother! Mimosa was the first pick of our 2014 gaited mules, who is now loved by Molly in Hutchinson, KS.