CHOCO DOCK X THE LAST CHANCE LADY (BY JOHNSON'S TOBY)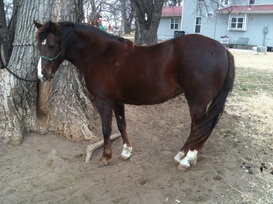 SOOTY SORREL e/e z/z

From the moment we saw Nehi's picture, we were smitten. Then we saw her pedigree, and WOW! A Direct daughter of CHOCO DOCK (2 TIME INTERNATIONAL CHAMPION and SAM TUTTLE AWARD WINNER) and out of a direct daughter of Johnson's Toby, this little mare is royally bred. She is the prettiest color red we think we've ever seen, and we suspect she has the sooty gene. If we could sum up her personality, it would be "I'll do whatever you want if you pet me..." and been doing very well under saddle. We look forward to developing this little mare in to yet another wonderful family horse, and we are sure she will produce some beautiful babies for us!

---