Our 2014 Rocky Mountain GAITED MULE FOALS are HERE!!!
They are all sired by the renowned
Champion Gaited Jack
Ragan's Gentle Ben.
We now have our first four baby mules on the ground, and they are so much fun! Sweet and clownish, these beautiful baby mules are well built and athletic, will mature to be 15 hands high or taller, and are showing natural lateral movement that gives us warm fuzzies to watch! All of our babies have
been handled daily and are halter broke, broke to lead, and are accustomed to picking up their feet and lots of socialization.
Also, they are all showing dun characteristics...
As we continue to watch them grow, w
e think that there is a strong chance that
they may all shed out to be DUNS!!!
Our 2014 GAITED MULES have all been
sold.
Please call for availability of our 2015 mules sired by
2014 Kansas State Champion,
HOPKINS' GENTLE BENDER.
DON'T WAIT; There will only be ONE GAITED MULE FOAL AVAILABLE FOR PURCHASE in 2015...
Click HERE
to see MULE FOAL GALLERY PICS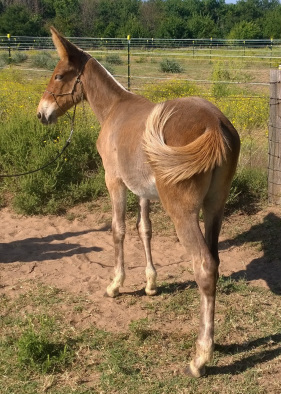 Margarita Onthe Rocks
Kansas State Mule&Donkey Show
1st Place in 2 & Under Mollies!!!
Dam: Roxy's Relief RMHA #910003
DOB 5-1-2014
status: SOLD!!! Congrats Cynthia of Texas!
This sweet girl is outgoing and playful, and loves attention. She is a quick learner and a socialite, who loves to make friends and explore! She is going to be dark chocolate with white points, and her mane and tail will be a beautiful flaxen blonde, just like her dam. She is also showing the DUN characteristic of leg barring and a dark line down her back!

---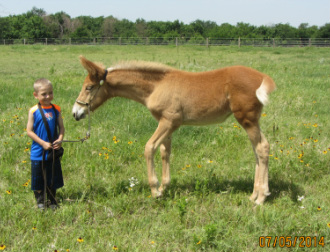 Count On Mimosa 2nd Place in 2& Under Mollies!!!Dam: Count On Me V.B.F. RMHA #910193DOB 5-6-2014 status: SOLD!!! Congratulations Molly of Hutchinson, KS!!!!!!
Mimosa could be Margarita's twin as she looks like a carbon copy, and she is just as sweet! She thinks her name should be "Count On Me Most..." between these two mollies the competition for attention is steep! Mimosa has the sweet loving nature of her wonderful mother and is calm and mild, yet clownish and playfull, and will also be a chocolate flaxen beauty with white points, like all of Countess' beauties before her. She also has the most notable leg barring of all Ben Babies, with chocolate lines that wrap around her legs going all the way from her coronet bands up to her knees. Mimosa's gestation was also 11 months. Congratulations to Molly of Hutchinson Kansas! We are glad we could turn your dream into a reality!
Click here for more about Mimosa's dam, Count On Me VBF...
---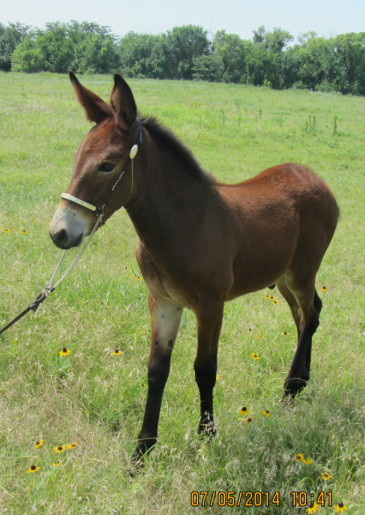 Johnny Hash Brown aka HashKansas State Mule&Donkey Show 1st Place in 2 & Under Johns!!!Dam: RTS Miss Dandy Flashdance RMHA #2007015868DOB 5-12-2014 status: For SOLD!!!Congratulations Bret & Kelly of Andover, KS!
Flash produced a very beautiful black based John mule, didn't she? We had this typey guy figured for a bay, but all of the mule experts say he will shed off to be a BUCKSKIN
!!! He also has the
DUN CHARACTERISTICS
of
shoulder shading, ear shading and black stripes on his hind legs!!! He got it all, and will be as FANCY as they come!
This little guy is the most "donkey like" of the mules so far, and his gestation went 12 days longer that that of a horse, so we figure he is 12 days more donkey! This guy is sweet and social, friendly and outgoing. Wants to be in your pocket, just like a Rocky should be. Hash did very well at the Kansas State Mule & Donkey Show, winning the 2 and Under Class and then placing 3rd of 6 mules in the Championship halter class with an unfamiliar guest handler.
Click HERE for more pictures and information on this stunning little guy!
For more info on Hash's dam, Flash, click here...
---
Flash's 2015 MULE FOAL will be THE ONLY GAITED ROCKY MOUNTAIN MULE AVAILABLE IN 2015! If you want to get our next gaited mule foal, DON'T WAIT, call us today. This may be the only foal we offer this year. A deposit will hold this baby mule until it is weaned in the fall of 2015.


Why should you want a baby
HMH Mule? Because of all the things he will do for you...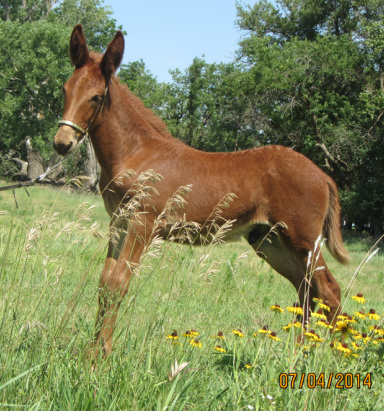 Sweet Tater aka CHOCO JOHN 2nd Place in 2& Under Johns!
Dam: CRS Nehi RMHA #2010043394
DOB 5-14-2014 status: S
OLD!!! Congratulations Bret & Kelly of Andover, KS! Our Big Red is here! This beautiful mahogany red John mule is out of a
DIRECT CHOCO DOCK DAUGHTER & is also a JOHNSON'S TOBY'S GREAT GRANDSON! He is a quick learner, and is a VERY athletic forward and fancy moving mule colt who would be an EXCEPTIONAL SHOW PROSPECT, who with his size and stature will look as good behind a cart as he will under saddle, and with his long neck he will carry himself beautifully and proudly. He is the only one of his kind in existence today. His gestation was 11 months and a day.
Click HERE for more pictures and information on this sweet baby mule!
For more info on Tater's dam, CRS Nehi, click here...
---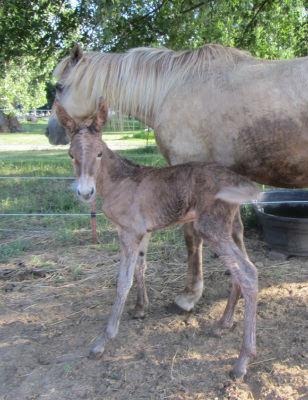 Sonnet's Espresso Martini DOB 7-7-2014 Status: Not being offered for sale.
Dam: Sam'sons Sonnet
RMHA#940137 KMSHA#970697
Sonnet delivered us a beautiful chocolate and flaxen molly mule and she is a beauty! For the history of her RMHA International Champion mother, click HERE.
---