All of our 2014 RM Mule foals have been sold.

This year we will only have ONE 2015 GAITED RM MULE FOAL AVAILABLE...

Our mules are SPECIAL EDITIONS; as our main focus is on our beloved Rockies.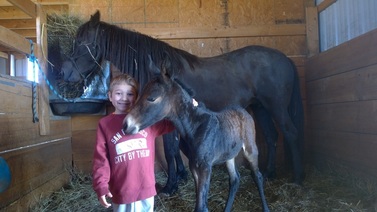 1. Cinder X Hopkins' Gentle Bender
Rocky Mountain Mule!
Handsome Mr. Hopkins! dob 3-11-2015(Not for sale)
For a year Ashton has been praying for his Cinder's baby mule, and he's very proud of his new guy. Handsome is going to stay at HMH to be our family mule and Ashton's 4H project!

---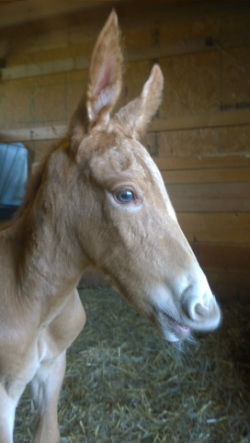 Introducing our 2nd Bender Baby Mule, Hopkins Moon Harvest, a STUNNING PALOMINO MOLLY!!!! Flash delivered her second beautiful baby mule for us April 27, 2015! This little molly is friendly and social, and she is a beautiful color, and what a joy it is to watch her play and gait around. We will be offering this wonderful girl FOR SALE; she will be available after weaning this fall; reserve her with a deposit today! She is Hash Browns 3/4 sister, and she is going to be a stunning gold color like her big brother, HMH Thundersnow.
MORE PICTURES of our BENDER BABIES COMING SOON!
She is REGISTERED with the AGMA(American Gaited Mule Association).
---
Our beautiful new Palomino Dun Molly,
Hopkins Moon Harvester aka Baby Moon
is AGMA registered and is the
ONLY 2015 HMH GAITED MULE for SALE this year!
Call us TODAY about this outstanding
PALOMINO MOLLY!
She is $5000.00 firm.We only have our two baby mules this year, and as Bender will be moving to Utah in 2016 our Bender baby RM Mules will be limited editions. Don't miss this FANCY baby molly.
Her dam, our
proven
buckskin mare, RTS Miss Dandy Flashdance, has been sold!
Flash is a proven producer of extremely well gaited, beautiful and colorful babies with great personalities. She is the dam of our Silver Buckskin Stallion HMH Thundersnow.
We have also attained a double registered RMHA/KMSHA double silver filly
BBS Lady Ragtime, a daughter of the beautiful Amego's Rockin' Gem and Yankee granddaughter, for our program, and we look forward to the beautiful chocolate mules she will produce for us in the future. Check back for updates!
Click
HERE to meet our 2013 Rocky foals
...
Click
HERE to meet our 2014 Rocky mule foals
...
Are Bender's Rocky Mountain Mule babies naturally gaited? See Hopkins Moon Harvest play and show off her natural gait.