Hopkins Mountain Horses is a small family operated farm in central Kansas devoted to promoting and preserving Rocky Mountain Horses in the mid-west.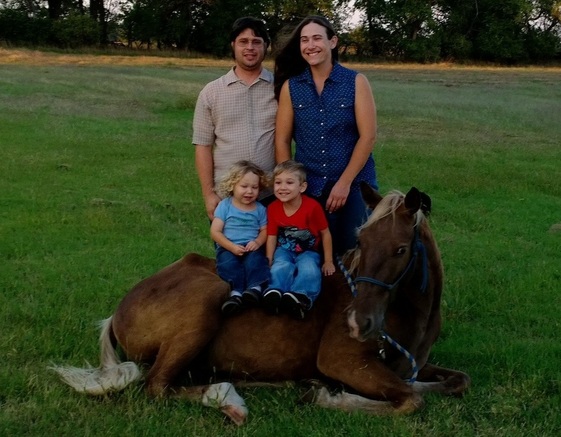 We are convinced that these beautiful Rocky Mountain Horses are the ideal pleasure breed and family companion. Their laid back temperaments and people oriented attitudes make them charming and always a pleasure to be around. It's this attitude that sets them apart from the gaited other breeds. Their smooth as silk gait is a comfort that is an envy to all others.
We feel blessed to have such wonderful horses in our lives.
---
We drove into Wichita, Kansas on May 14th, 2016 to Pawnee Prairie Park to ride and show our support of this wonderful venue. To our delight, we made the news in the video below!
The beautiful Rocky Mountain Horse who bowed for the camera and laid down for his "Lazy mans way" mount is our very own HMH Thundersnow who is the 1st foal born here at Hopkins Mountain Horses. Thunder is a wonderful 5 year old SILVER BUCKSKIN trail gelding who was a pleasure to enjoy all the beautiful trails and footbridges of Pawnee Prairie Park. **THUNDER IS FOR SALE!!!** DON'T MISS OUT ON THIS GREAT GELDING!!!
He will be the only saddle horse offered for sale in 2018.
Introducing HMH THUNDERSNOW
SILVER BUCKSKIN TRAIL GELDING!
He is a naturally confident guy with a sweet, willing disposition, and a great natural gait. In April 2017 he won 2nd place on his very 1st NATRC ride! We had so much fun and he made us so proud! He also bows and lies down for mounting, as demonstrates in the above Pawnee Prairie Park Wichita Eagle feature!
Beautiful SILVER DUN weanling stud colt SOLD!
Need a QUICK WAY to navigate our website and find ALL WE HAVE to OFFER???
Click HERE to go to our SITEMAP!!!
SILVER GRULLO Spanish Sundown SON SUNDOWN COWBOY ROCKY/KY MOUNTAIN STALLION is NOW IN KANSAS!!!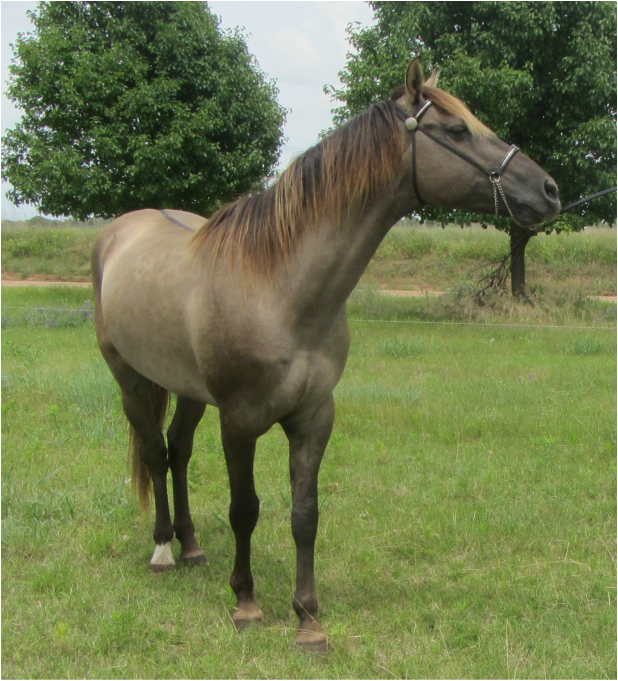 Hopkins Mountain Horses is proud to announce that the incredible proven RMHA/KMSHA SILVER GRULLO stallion, SUNDOWN COWBOY is now HERE with us in KANSAS! He is STANDING at STUD, is NOW AVAILABLE!!!
SUNDOWN COWBOY TESTED PSSM1 NEGATIVE!!!

​We are very proud to have this outstanding stallion!
This beautiful stallion is a son of Spanish Sundown. Sundown Cowboy's 2007 son, TOO MUCH is a breedi ng stallion in Switzerland producing fine Rocky/Kentucky Mountain Horses of all color in Europe. We are proud to be producing fine Rocky Mountain Horses like Too Much here at Hopkins Mountain Horses!
---
To see our 2015 SOLD SADDLE HORSES, CLICK HERE!
We are proud to introduce our New Premier AMGA Registered Bill Moore bred Gaited Jack, Hopkins' Miracle Man, aka Forest.
We DO offer SHIPPED SEMEN so far with 100%Success!
| | |
| --- | --- |
| | We traveled to Tennessee in the fall of 2016 because we found something very special; the 3 remaining Billy Moore Gaited Jacks, sold from his estate when he passed in 2012. The one that stole our hearts is a big black jack with white points named Forest. He has earned his new name by settling our beautiful but baron mare, Spanish Sundown's Scotch Bonnet shortly after arriving home here in Kansas. |
Forest sires beautiful, naturally gaited, good minded & tempered foals that Forest. In April 2016 we saddled Forest up for the first time, climbed on him and took him for a spin, and were very pleased when he gaited smoothly off under saddle. For being a 10 year old Jack Donkey with minimal saddle training (if any) we felt like Forest did wonderfully on his first ride! He has a mild mannered, kind, willing disposition, he really loves attention, & being around people. See a short clip from his first ride below, and see his natural 4-beat gait in slow motion!
What does a naturally gaited baby mule look like? Check out our BEAUTIFUL new baby PALOMINO Rocky Mountain Mule sired by our Kansas State Champion NATURALLY GAITED Jack, Hopkins' Gentle Bender! This pretty palomino 2015 MOLLY MULE has been SOLD! Congrats Cliff of Hutchinson, Kansas!
Are you looking for that once in a life time gaited mule? We work hard to make them here. Congratulations to Bret & Kelly of Utah, who are now enjoying their two new boys, Tater, & Hash; to Cynthia in Denton, Tx, who is now loving Margarita; to Molly of Hutchinson, Ks who now has her dream mule, Memosa; and to Cliff who is now enjoying our Hopkins Moon Harvester, now "Ruby".
What makes our gaited Rocky Mountain Mules so special?
Everything. Don't take our word for it. See for yourself.
TEMPERAMENT ~ TRAINABILITY ~ CONFORMATION
See just what we mean below;
our Choco Dock grandson mule, Sweet Tater (aka Choco John) shows his sense over obstacles & lies down on cue!

Why should you want one of our
Rocky Mountain Mules?
Because of what he will do for you!
Money has moved back to KY in May to join Secret Sam at Dreamcatcher Enterprises & Rocky Ranger Ranch. We will be retaining breedings to Big Money and look forward to watching him blossom in the show ring.

To meet our charming Rocky Mountatin mothers,
visit our MARES PAGE.