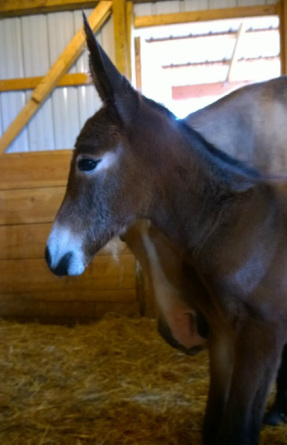 Hash Brown
Dam: RTS Miss Dandy Flashdance RMHA #2007015868DOB 5-12-2014 status: For Sale!!!!
Flash produced a very beautiful black based John mule, didn't she? We had this typey guy figured for a bay, but all of the mule experts say he will shed off to be a BUCKSKIN
!!! He also has the
DUN CHARACTERISTICS
of
shoulder shading, ear shading and black stripes on his hind legs!!! He got it all, and will be as FANCY as they come! With a spring in his step and tons of athleticism, when he was born he moved laterally, very much like his WELL GAITED big brother, Bender. Hash is going to be very flashy, buckskin colored & dun striped, well gaited, and fast!!!For more info on Hash's dam, Flash, click here...
or to see his big brother
HMH Thundersnow, click here...
---