In 2016 we are expecting the following Rocky Mountain Mule foals,
who ALL have a chance to be DUN*!!!

July 2016 - Stormy Falcon X Hopkins' Gentle Bender*
August 2016 - Spanish Sundown's Scotch Bonnet* X Forrest
Sept' 2016-Nuncio's Chocolate Gala X Hopkins' Gentle Bender*

Check out our 2 Bender Babies!
Come back for updates on our
2016 Gaited Rocky Mountain Mules, due in July, August, and October!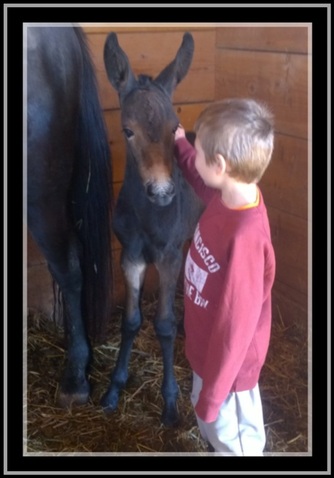 Meet Handsome
Mahogany Dun John Mule
Hopkins' Gentle Bender's 1st born
DOB 3-11-2015
This beautiful little guy is a sight to behold! We apologize for keeping him to ourselves for a month, but we are having so much fun with this sweet little baby mule, who is out of our son's favorite mare and our first Rocky Mountain Horse, Toby B's Smokin Cinder. We will be keeping this stunning baby Rocky Mountain Mule for our family mule. He was born exactly 11 months after we brought our outstanding Gaited Jack, Hopkins Gentle Bender, to Kansas!
CHECK BACK OFTEN FOR MORE PICS COMING SOON!
Below is our 2nd born Bender Baby, born April 27th 2015 out of our beautiful sooty buckskin Flash, making her Hash & Thunder's little sister. We are naming this BEAUTIFUL PALOMINO molly Hopkins' Moon Harvester aka Baby Moon. She was born with baby blue eyes, just like her brothers.

Baby Moon has been SOLD!
---
What does a naturally gaited baby mule look like?
Check out our BEAUTIFUL new baby
PALOMINO Rocky Mountain Mule sired by our
Kansas State Champion NATURALLY GAITED Jack,
Hopkins' Gentle Bender!
UPDATE!!! Our pretty palomino 2015 MOLLY MULE has been SOLD! Congrats Cliff of Hutchinson, Kansas!

In 2014 we took home a total of 4~1st Places, and 3~2nds!!!!
In 2015, we won 3~1st's in our 3 classes! What a great success!!!
In 2016 our new GAITED JACK Hopkins' Miracle Man became the new Kansas Mule & Donkey Show Over All Champion Donkey and Handsome won his class too!
Are you looking for that once in a life time gaited mule?
We work hard to make them here.
Congratulations to Bret & Kelly of Utah,
who are now enjoying their two new boys, Tater, & Hash;
to Cynthia in Denton, Tx, who is now loving Margarita;
and to Molly of Hutchinson, Ks who
now has her dream mule, Memosa.
What makes our Gaited Rocky Mountain Mules so special?
Everything. Don't take our word for it. See for yourself.
TEMPERAMENT ~ TRAINABILITY ~ CONFORMATION
See just what we mean below;
our Choco Dock grandson mule, Sweet Tater (aka Choco John) shows his sense over obstacles & lies down on cue!

Why should you want one of our
Rocky Mountain Mules?
Because of what he will do for you!
To meet their charming mothers,
visit our MARES PAGE.
Need a QUICK WAY to navigate our website and find ALL WE HAVE to OFFER???
Click HERE to go to our SITEMAP!!!