Sam'Sons Sonnet ***Sold*** RMHA#940137 KMSHA#970697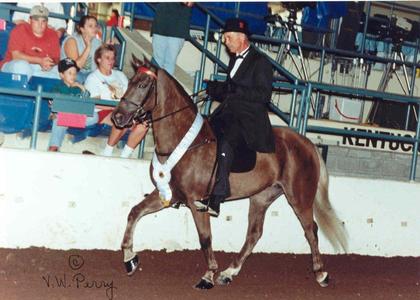 Sam'sons Sonnet is very special. We are very proud to have owned this champion mare. Now we have made the hard decision to let her to go on to a new home this fall to be a blessing to a new owner, Crysta, who has always dreamed of having horses, but is now recovering from the West Nile Virus. Sonnet's smooth as glass gait and sweet temperament will offer her hours of equine facilitated therapy to aid her in recovery and let her live her dream, while Sonnet's extensive training will offer the safety of a seasoned champion. We look forward her coming back to see us next year to be bred to one of our up and coming stallions for a future Sonnet foal...
Sonnet was born and bred at Broken's Bones Farms in Mt. Olivet, KY, a legendary breeding program that spared no expense in producing the finest Rocky Mountain Horses available, and is the product of two exceptional parents,
Broken Bones Sam's Son
and Anna's Lady Christina. She is an exceptional mare, and she will be greatly missed here at HMH.
Sonnet's dam, Anna's Lady Christina, is a very special mare. She is sired by
Woosley's Rocky, a Johnson's Toby son, and out of a Clemon's Tim mare, Anna's Special Penny (Choco-Lot's dam).
"Christi" as she is known, was featured and celebrated in the Spring 2012 issue of The Rocky Mountain Horse in the article "The "XX" Factor" by Angela Robichaud of Nova Scotia, Canada. Angela pointed out that Christi produced a RECORD 19 FOALS, many of them being show champions! She quotes Mary Beth Autry "Christi was the best producing mare we ever had at Broken Bone's Farms!...her entire reproductive career was remarkable." Angela also pointed out that when Sonnet won the
1998 RMHA International Grand Championship
, she was one of the
few mares in RMHA history to beat out all the stallions for this prestigeous award.
What she doesn't mention is that this included Sonnet's
2 TIME INTERNATIONAL CHAMPION and 2 TIME SAM TUTTLE AWARD WINNING SIRE, BROKEN BONE'S SAM'S SON, who took the RESERVE title in that same class, AFTER Sonnet!!! WOW!!!! What a mare!
Sonnet was bred at
Broken Bone Farms,
where she spent the first 14 years of her life. Mary Beth Autry personally told me that Sonnet is the BEST mare they EVER PRODUCED
!
Considering that they strategically bred International champions to International champions and produced over 300 top notch foals, this is quite the compliment! Not really a surprise, though, since she is sired by their CHAMPION SAM'SON and out of their best mare. Sonnet had an amazing show career and produced six beautiful foals for Broken Bone's Farm. In 2008 when Mary Beth offered Sonnet for sale, Mary Beth called Sonnet
"the most beautiful mare you will ever see..."
(I can't say I disagree) and goes on to point out
"She has won more awards than any other Rocky Mountain Mare!!!"
Sonnet is now enjoying being the loved trail companion of Crysta in Louisberg, KS.
---