Hope Springs Belen RMHA#960158
MAPLES SQUIRREL X NUNCIO'S NATA by NUNCIO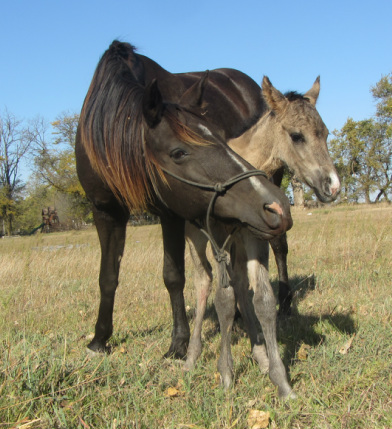 Hopkins Mountain Horses
is PROUD to introduce
Hope Springs Belen & her beautiful new Spanish Sundown filly!
To watch this beautiful grulla filly be born was like seeing a sunrise for the first time after a lifetime of darkness. With a beautiful diamond snip, wide shoulder cross and dorsal stripe and matching barred legs, she is breathtaking to behold.
This filly will be the last of this proven cross of sire and dam,
her grandsires being the two great founding stallions
Kilburn's Chocolate Sundown and Maples Squirrel.
She has a full sister who is a beautiful smokey grulla mare, Spanish Lights, that resides in Holland, who is the dam of the Rocky Mountain and KY Mountain International Champion Silver Smokey Dun Stallion Alliance's Gone N Dun It.
We are going to name this beautiful filly
Spanish Sunrise, as she was born right out front in the 8 am hour, in the sunrise of a beautiful new October morning.
She is FOR SALE!
Below is a gallery of pictures taken in her first hour, just after her birth!
Contact us today to reserve this beautiful filly!
She will be available after weaning in the Spring of 2016.
---