We are proud to have produced three fine 2013 foals.
We feel that ALL 3 of HMH's 2013 FOALS are all EXEMPLARY
of the ROCKY MOUNTAIN HORSE breed.



HMH THUNDERSNOW
RMHA #2013045441
4/9/2013 ~ Gelding SOLD!
RTS Miss Dandy Flashdance X The Snow Man
Born on a stormy day in April just before a thunder and lightning storm with snow and ice, we decided to name this colt THUNDERSNOW ...

we also think he is the spitting image

of his beautiful grandsire,

Douglas's Midnight Thunder

, Owned by

Bryan Davis 804-402-2907

,

​

PICTURED ABOVE

. Their baby pictures look incredibly alike. He displays his silver dapple gene now with a white mane and tail, but so did DMT when he was that age. We look forward to watching Thunder grow into the beauty that he will become...

CLICK HERE TO SEE MORE PICS OF DMT

---

HMH Thundersnow, our gelding

We are excited about this colt. Already displaying beautiful conformation and gait, a face to melt our hearts, and this little colt has the characteristics that we were breeding for! He LOVES to be around people, is outgoing, playful, and loves to show off! He is built like a tank, and a beautiful 4 beat gait that he has displayed since the day he was born.

---
HMH STEEL WHEELS aka JR. ~SOLD!!!~
RMHA #2013045440
4/23/2013
Count On Me V.B.F. X Steely

This beautiful colt, being the dappled dark chocolate with white mane and tail that everyone dreams of, with his FANTASTIC pedigree, will be a great asset to the breeding program of the Casteels in MO, who share our dream of promoting the wonderful Rocky Mountain Horse. After getting him home they reported that he's the most laid back horse they'd ever met, which doesn't surprise us since we've always known that he is the easy going kind of guy that would capture everyone's heart. Should mature to be a 15+ hand high dark dappled chocolate with a white mane and tail. He is red gene negative. Imprinted and handled daily since birth, he is halter broke and can be led easily, picks up feet, lunges, ties, loads, and LOVES PEOPLE.
To check out
Count On Me's page, click here,
where you will find pictures of some her other foals.
---

HMH Klassic Cadence
RMHA #2014045619
6/13/2013
Toby B's Smokin Cinder X Klassic Calliente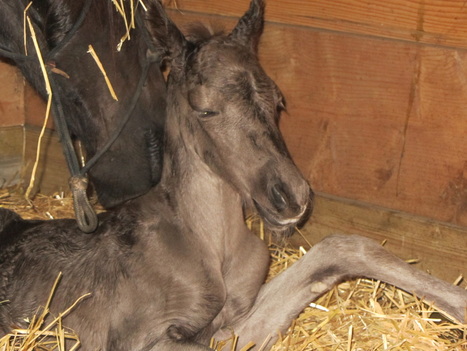 KC just after birth
A perfect little filly,
just we wanted out of Ashton's special girl...
Cinder
comes through for him every time! KC is the image of her late sire, Klassic Caliente, and is his last foal. She is bold and curious, and loves to be first off the line and in front of the rest. We look forward to watching her develop her "WOW" factor as she grows into her sires shoes.
---