Hopkins Mountain Horses is a small family operated farm in central Kansas devoted to promoting and preserving Rocky Mountain Horses in the mid-west.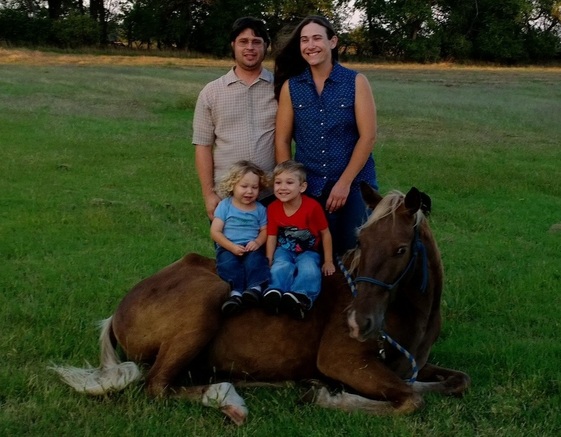 We are convinced that these beautiful Rocky Mountain Horses are the ideal pleasure breed and family companion. Their laid back temperaments and people oriented attitudes make them charming and always a pleasure to be around. It's this attitude that sets them apart from the gaited other breeds. Their smooth as silk gait is a comfort that is an envy to all others.
We feel blessed to have such wonderful horses in our lives.
We bought our 1st Rocky in 2008, our 2nd in 2010, and then in 2012 we went ROCKY MOUNTAIN HORSE CRAZY!!!
---
Hopkins Mountain Horses has been serving the mid-west since 2010, providing a source of reliable Colt Starting Services, and since 2013 have been the leading source of Rocky Mountain Horses and RM Mules in Kansas and the mid-west.
As you continue down this page you will see what we've been up to over the past few years...
We made our entry into Gaited Mules & Donkeys in 2013 for the sake of an insufferable friend's dream of a gaited mule, and one thing led to another.
Now we are a leader in the finest GAITED MULES & JACKSTOCK, as well.
We are very proud to have brought back two of the last BILL MOORE jacks from Tennessee!
Introducing Redman's Twister, a PROVEN GAITED JACK, sired by the late Bill Moore's REDMAN. This Jack was Bill's main breeding jack from 2005 until his death. Twister is AGMA registered, 13 years old, and will
HAND BREED, PASTURE BREED
& can be COLLECTED;
TWISTER is very fertile, and provided
13 breeding doses in his first collection!
Twister's UTD on his vaccines, has current negative coggins, & loads/unloads easily.
He is FOR SALE, and we will be considering reasonable offers through November 25, 2015, at which time
BEST OFFER will be accepted!
TWISTER is a PROGRAM MAKER!
Call us today to put in your bid on the LEADING JACK of the LATE BILL MOORE & STEPPING OUT FARMS!!!
We will be retaining his son,
Forest, for our Gaited Mule program.
We will also be researching and adding information on Billy Moore, the leader of the Gaited Mule Industry for 20 years, until his death several years ago. We look forward to visiting with his wife in November, and will be adding a tribute to Bill Moore once we return from Tennessee.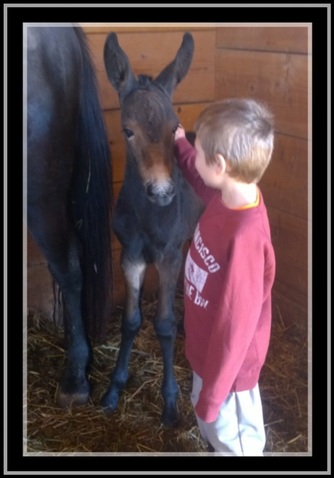 Our 1st Hopkins' Gentle Bender Baby is HERE!!!
Meet Handsome Mr. Hopkins
Mahogany Dun John Mule
DOB 3-11-2015
This beautiful little guy is a sight to behold! We apologize for keeping him to ourselves for a month, but we are having so much fun with this sweet little baby mule, who is out of our son's favorite mare and our first Rocky Mountain Horse, Toby B's Smokin Cinder. We will be keeping this stunning baby Rocky Mountain Mule for our family mule. He was born exactly 11 months after we brought our outstanding Gaited Jack, Hopkins Gentle Bender, to Kansas!
CHECK BACK OFTEN FOR MORE PICS COMING SOON!
Below is our 2nd born Bender Baby, born April 27th 2015 out of our beautiful sooty buckskin Flash, making her Hash & Thunder's little sister. We are naming this BEAUTIFUL PALOMINO molly Hopkins' Moon Harvester aka Baby Moon. She was born with baby blue eyes, just like her brothers.
She is for sale, and will be ready to go October '15.
---
What does a naturally gaited baby mule look like?
Check out our BEAUTIFUL new baby
PALOMINO Rocky Mountain Mule sired by our
Kansas State Champion NATURALLY GAITED Jack,
Hopkins' Gentle Bender!
We are now offering Hopkins' Gentle Bender's SHIPPED SEMEN!!!
Call us for a contract and availability today!
We are proud to announce that
Hopkins Gentle Bender
is now the 2014 & 2015
Kansas State Mule& Donkey Show
Halter Grand Champion and
2014 Open Donkey Trail/Obstacle Winner,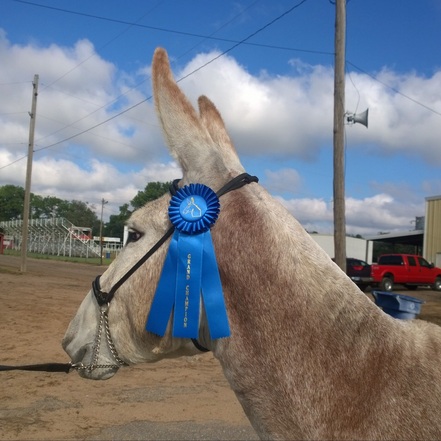 and our baby mules placed
1st in their 2 and Under Halter Classes! We are so proud of all our long ears! A special thanks to the very talented handler and our good friend Julia Hoffman, and to all our friends who came out to support us!
---
In 2014 we took home a total of 4~1st Places, and 3~2nds!!!!
In 2015, we won 3~1st's in our 3 classes! What a great success!!!
Are you looking for that once in a life time gaited mule?
We work hard to make them here.
Congratulations to Bret & Kelly of Utah,
who are now enjoying their two new boys, Tater, & Hash;
to Cynthia in Denton, Tx, who is now loving Margarita;
and to Molly of Hutchinson, Ks who now has her dream mule, Memosa.
Our first
2 Bender Babies of 2015 are HERE,
so check back for updates on our
2015 Gaited Rocky Mountain Mules!
What makes our gaited Rocky Mountain Mules so special?
Everything. Don't take our word for it. See for yourself.
TEMPERAMENT ~ TRAINABILITY ~ CONFORMATION
See just what we mean below; our Choco Dock grandson mule, Sweet Tater (aka Choco John) shows his sense over obstacles, and Hash Brown shows his neck reining skills...


Why should you want one of our
Rocky Mountain Mules?
Because of what he will do for you!
THE SIRE of our fantastic 2014 foals, the most proven GAITED MAMMOTH JACK IN THE USA, RAGAN'S GENTLE BEN
returned home to Missouri on the 1st of August 2013.
Now in 2015 our very own
Ragan's Gentle Ben's son &
BLACK BART great grandson,
HOPKIN'S GENTLE BENDER
is the 2014 Kansas State Mule&Donkey Show
Halter Champion & Open Donkey Trail Winner!
We purchased this fine young jack as a coming 3 year old from the Livengoods of 1st Choice Mules in 2014, to sire our future mules. He's a chip of the ol' block, NATURALLY GAITED, INTELLIGENT, & WILLING, with REFINEMENT & AMPLE BONE!
Now, Bender's first 2 baby HMH mules of 2015 are here & THEY ARE OUTSTANDING! They are exhibiting all of those qualities stated above that we value in him. Our outstanding GAITED JACK, HOPKINS' GENTLE BENDER is passing his valuable qualities to his offspring.

Click HERE to see meet his 2015 baby Rocky Mountain Mules.

Click here to check out our MARES PAGE
and here to see who's expecting...

To learn more about our handsome NATURALLY GAITED JACK,
2014 & 2015 KANSAS MULE & DONKEY SHOW HALTER CHAMPION & 2014 TRAIL WINNER
HOPKINS' GENTLE BENDER,
CLICK HERE to see visit his page and see him GAIT in SLOW MOTION!

QUICKSILVER is the SIRE of Fiji's BEAUTIFUL CHOCOLATE January 2015 foal, a very sweet, beautiful, and tall filly whom we think is a chocolate roan. We will also be choosing an additional mare to breed to this outstanding stallion,
who was 2013 RMHA Reserve High Point 4 yr old Stallion.
While in Kentucky we had the pleasure of experiencing Quicksilver in person,
and under saddle. He is an absolutely eye popping stallion, a gentleman,
and a WONDERFUL RIDE! We were impressed by his temperament,
and his being as calm and easy to handle and ride as a gelding.
We are proud to announce that we have purchased
Rea Swan's RMHA International Champion mare,
Nuncio's Chocolate Gala, and she is expecting our
2nd QUICKSILVER FOAL due in 2016!!!
Below is a video of Fiji bonding with her beautiful newborn baby filly. Fiji is the kind of girl to have; easy, willing, mild, and smooth as silk to ride... We expect this new baby to have just as good of temperament; she may be the sweetest baby born at HMH yet! She is a beautiful baby with great bone and she is going to be big! The best feelings comes, though, when we watch her run, play, and GAIT circles around her mommy! This filly is OUTSTANDING!
We are calling her Chile...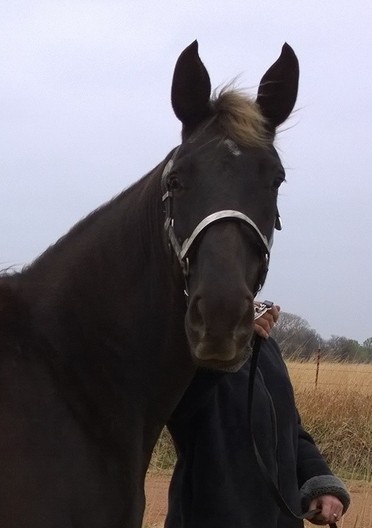 FIJI is SOLD...
Click HERE for more information on this fantastic, well broke, Registered & Certified Rocky Mountain Horse Mare, who is a BROKEN BONES' SAM'SON GRANDDAUGHTER with an easy going attitude & miles of trail experience. She will hit the trails this summer with her new owner. Congratulations Steven, of Emporia KS, on the purchase of your dream horse! We are glad to have helped you find her!
---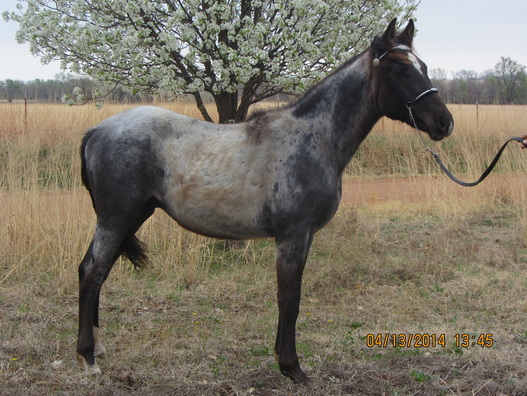 Hopkins Mountain Horses is proud to announce the purchase a beautiful black roan stud colt! This beautiful boy is from Classic Farm and is a of a son of Sonny's Silver Dollar out of a grulla Dock Daughter! We have named him BIG MONEY, and we look forward to him growing into the big beautiful stallion that Classic Farm is known for. He will be double registered KMSHA and RMHA.
---
Ashton had his first solo ride!
He took Magic out for a spin and was so proud to do it all by himself! Check out his first ride... you guessed it; we got it on video!
(Be sure your YouTube settings are in 720HD...)
Count On Me's 2013 weanling Chocolate & White stud colt is SOLD!!! Congratulations to the Casteel family of MO, who have taken him home to become their stallion!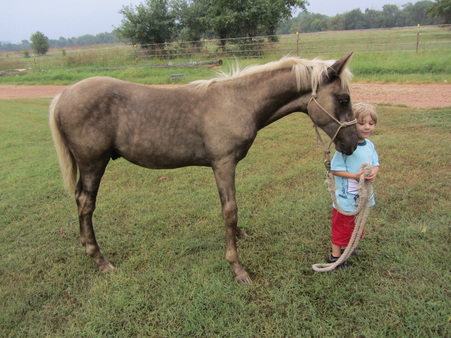 INTRODUCING HMH STEEL WHEELS, RMHA #2013045440!
This SUPER SWEET, LAID BACK guy is going to be a real looker. Out of our DOCK DAUGHTER/YANKEE GRANDDAUGHTER and sired by STEELY of Horse Shew Akers, this guy has a pedigree that will knock you socks off, and has been color tested RED GENE NEGATIVE!!! He's been handled since birth, halter broke, picks up his feet, stands for trims, lunges, ties, and LOVES PEOPLE. Not to mention that he is that PERFECT COLOR! We are very proud to have produced such a FINE EXAMPLE of a ROCKY COLT, and we know he will grow into a beautiful stallion for the Casteels.
See our
FOALS FOR SALE PAGE
for more pics and info...
---
Ashton loves to help with the horses, and illustrates for us in the video below how easy Junior is to handle...

********DOCK IS SOLD!!!*********
Congratulations Dana of Topeka, KS!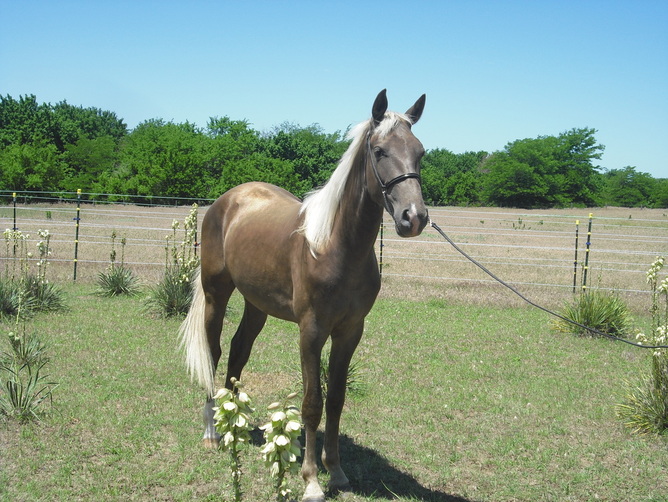 ROCK A DOCK is one of our best kept secrets here at HMH, but after a month in training, we feel it is time to introduce him to the world! This horse is going to be hard to beat anywhere he goes! We have been enjoying him so much that he's been getting most of our attention (also why we haven't done any recent updates!) For more information on this exceptional all around prospect, check out our "Saddle Horses For Sale" page. Be sure to watch this page for his series of videos, including but not limited to...
~under saddle, gaiting beautifully
~lying down and getting up on cue
~turning on the light
~ground tie, coming on cue
~tarped and ground tied
~riding blind with a shirt on his head
~Crossing a bridge with high water
~Crossing a flooded bridge~Taking out the trash~Standing quietly for a youth rider~Moving COWS and following a 4 Wheeler

These videos are just what we've done already and have in our files... There will be more to come, so keep checking back!Dock is now enjoying his new home in Topeka Kansas with his new best friend Dana.
We know that they will be a great pair, and that he will not only be loved by her, but her entire family!
He will be greatly missed here, but we love making dreams come true!
---
Rock A Dock attended his
first event on
August 24, 2013 and did extremely well.

He went through all the obstacles in his division with no refusals! What a good boy!!!!

This was the first time through this course; he has never seen any of these things before...

Also, this is his first time in an arena, under lights, and around many other new horses. He was AWESOME!!!
Be sure to watch our videos in HD (720p). You can adjust this by clicking on the gear box on the bottom right hand side of your YouTube window...
Dock went on his first Pretty Prairie Saddle Club trail ride down in Medicine Lodge. Wow, what beautiful country. We enjoyed riding and a night of camping.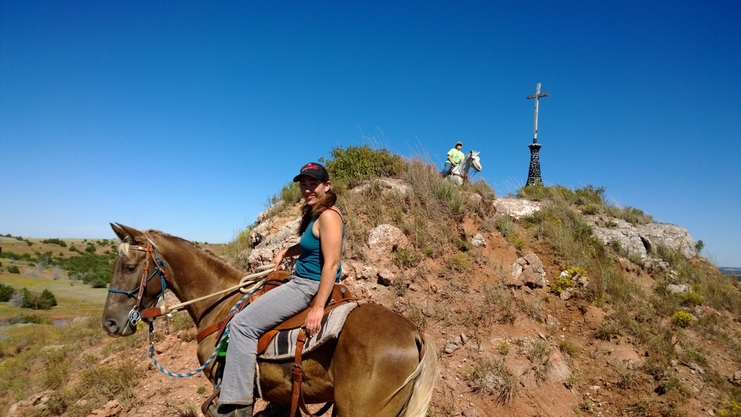 Red and Johnny on the top by the Cross, Dock and Brittany in front. Taken at Bob Larson's Gypsum Hills in Medicine Lodge Kansas.
---
To meet their charming mothers,
visit our MARES PAGE.