STORMY FALCON
RMHA #G2002008828 KMSHA # 20030236 COLONEL Club #41
By ROWDY'S STORM NASHA 1996-85 by EZD FALCON ROWDY NASHA FB-1
Out of HOWARDS MOLLY (by MAPLES SQUIRREL out of a YANKEE MARE)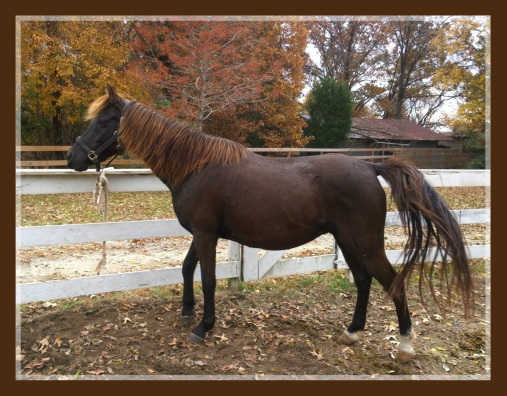 CHOCOLATE CREME Ee Zz Cr
This beautiful mare is truly one of a kind. She is RMHA and KMSHA registered out of a wonderful Maples Squirrel daughter, Howard's Molly. In 2000, this mare was bred to a beautiful fast racking buckskin stallion who had been brought from West Virginia to Texas. This stallion, Rowdy's Storm was an OWN SON of EZD Falcon Rowdy, the famed single-footing stallion who was timed and recorded in the 1970's at Texas A&M traveling in speed burst of 50 MPH! This legendary stallion was sired by a gaited stallion, The Colonel, who stood at stud in Eastern Kentucky in the 60's and 70's. Stormy Falcon is a beautiful combination of the wonderful Rocky Mountain Horse through her Maples Squirrel and Yankee blood, with the added attributes of her amazing grandsire, EZD Falcon Rowdy, who was known for his heart, stamina, and vigor. Below is a picture of Stormy Falcon's sire, Rowdy's Storm, and the video that was taken at Texas A&M of EZD Falcon Rowdy and his owner and rider, the late Johnny Demitris. Be sure to watch his video to check out Rowdy's incredible speed and how smoothly the one armed Johnny rides him bareback!
---
EZD Falcon Rowdy was an incredible single footin' stallion who's origins are similar to that of the Rocky Mountain Horse, both being seeded in the Mountains of eastern Kentucky. Rowdy was incredibly fast and had unmatched vigor and heart. How much heart? Sadly, so much that this heroic horse died of a broken heart when his love and longtime mate was shot accidentally by his owner, and died, sometime in the late 1980's. Upon witnessing the death of his true love, EZD Falcon Rowdy lost his mind and raced wildly into the Mountains of Virginia to never be seen again.
We believe Stormy Falcon is very special with the Rowdy blood combined with her Rocky genetics. We hope to raise a line of big hearted Rockies that will be fast and competitive, with lots of drive and spirit. So far she has given us three amazing foals;
a 2015
PALOMINO filly
HMH Pretty Prairie Falcon by Hickory Ridge,
a 2016
RED DUN ROAN
gaited john mule Rowdy Red by Gentle Bender,
and a beautiful
GRULLA 17 filly
HMH Millennium Falcon by Sundown Cowboy.
We are keeping Stormy's fillies for our program, but her fancy gaited red dun roan john mule Rowdy Red is FOR SALE!
Click here to see him in our gallery of 2016 Gaited Mules!