Hopkins Mountain Horses is proud to own fine stallions that will sire our future foals.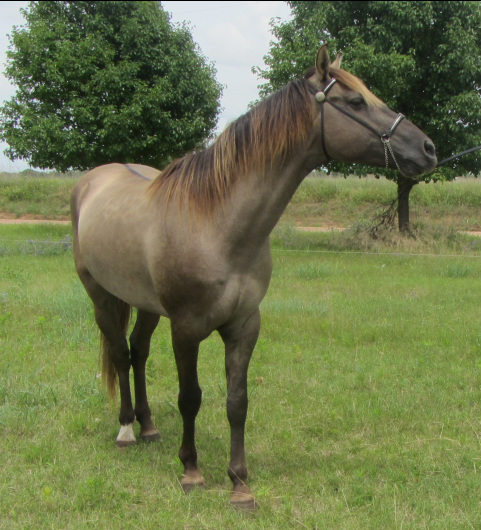 ---
---
UPDATE: HMH THUNDERSNOW, our GOLDEN SILVER BUCKSKIN is now a beautiful GELDING and he is amazing under saddle! We plan to enjoy the summer trail riding our favorite guy with all our riding clubs. After all he's our first born. We will be offering our beautiful boy for sale this fall. He will mature to a modest 14 to 14.2 hands and is the perfect size for someone looking for a smaller mount. Thunder has a natural charm and gets along easily with others. He is a quick learner and already bows and will lie down for mounting. He crossed water on his second day outside, and Thunder has a borne in natural confidence that cannot be trained. If you are looking for the EXCEPTIONAL gelding that will be your new trail partner, look NO FURTHER than HMH THUNDERSNOW!

---
BIG MONEY
BLUE ROAN STALLION PROSPECT
SALE PENDING TO KENTUCKY!!!
Sonny's Silver Dollar X Dock's Dar-Lynn
(DOCK X SPANISH SUNDOWN X MAPLES SQUIRREL)
In 2014 we bought a yearling Blue Roan Stud Colt by Sonny's Silver Dollar, out of a beautiful silver grulla Dock mare. We fell in love with him at first sight, brought him home, and we named him Big Money. Now, in 2016 Kentucky called; they want him back! We love this big pretty guy and we would like to see him reach his full potential, so we have made the hard choice to let Big Money go home to Kentucky into the very hands of our hero, Jane Gean of Dreamcatcher Enterprises and Rocky Ranger Ranch! He will be groomed for a show career and have far more opportunities to shine when he goes home to Kentucky. We will be retaining breedings to our beloved Big Money, and look forward to seeing him blossom.

---